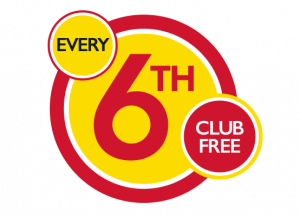 PROGRAM GUIDELINES
Purchases must be made from an authorized U.S. Kids Golf Retailer.
Collect UPC(s) and original proof of purchase receipt(s) for at least FIVE (5) clubs. (The UPC is the SILVER BAR CODE STICKER located on the club shaft.)
Multiple Discounts are allowed if you submit in increments of five (5) clubs/UPC(s): 5 clubs=1 club free. 10 clubs=2 clubs free, etc.
Qualifying Club Combinations Clubs are totaled in increments of five (5) clubs. 3-club and 4-club sets require an additional purchase to equal five (5) clubs.
For 7-club sets, retain two (2) UPCs for your next redemption opportunity!
In the UK, Tour Series products ARE NOT supported by the 6th Club Free programme.
Claiming Your 6th Club Free
To claim your UK 6th Club Free, please start by visiting the following link – Login or create an account
Once the link is opened, please either 'Log In' using your current/active account details. Or if you are a New Customer, please click on 'New Customer? Start Here' and fill in all the relevant details to create an account.
Once Logged In, please click on the '6th Club Free' option from the menu down the left hand side of the screen.
From here, please click on the blue outlined 'DOWNLOAD THE 6TH CLUB FREE FORM' box. This will open the UK 6th club free form onto your screen where you will be able to print out or save to your computer.
Please proceed to fill out all 6 sections of the form as stated. Once you have completed all 6 sections, please follow the instructions in section 7 by either – Posting to form to the address on the form, or emailing a scanned copy/picture of the form the email address on the form.
Please give U.S. Kids Golf UK 2 weeks to complete the 6th Club Free application. U.S. Kids Golf UK will notify you once received and shall confirm dispatch to the requested delivery address.
Questions?